Revolutionizing Glass Industry: The Benefits of Glass Polishing
Feb 03,2023 | View : 508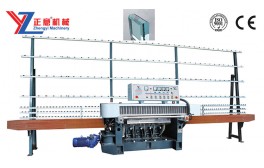 Glass products have been a vital part of our daily lives and play a crucial role in various industries such as construction, automotive, and consumer goods. However, producing high-quality glass products is not an easy task. It requires skilled labor, specialized equipment, and a considerable amount of time. In recent years, advancements in technology have made the glass polishing machine a game-changer in the glass industry.
Glass Polishing Machine Improved Quality and Consistency
One of the biggest benefits of using a glass polishing machine is the improved quality and consistency of the finished product. The machines are designed to polish glass to a high level of accuracy and uniformity, reducing the number of defects and inconsistencies in the final product. This results in a better-quality glass product that meets the highest industry standards.
Moreover, glass polishing machines have the ability to process glass at a much faster rate compared to manual polishing. This results in increased production efficiency and reduced production time, allowing companies to increase their output and meet customer demand.
Glass Polishing Machine Increased safety and reduced labor costs
Another significant advantage of the glass polishing machine is the increased safety they provide. Glass polishing is a labor-intensive and dangerous task, with workers at risk of injury from broken glass and repetitive motion injuries. Glass polishing machines eliminate these risks by automating the polishing process and reducing the need for manual labor.
In addition to increased safety, the use of glass polishing machines can also lead to significant cost savings in terms of labor costs. The machines require fewer operators, and the reduced need for manual labor reduces the cost of wages and benefits. This results in a more cost-effective and efficient production process, allowing companies to remain competitive in the market. In conclusion, glass machine have revolutionized the glass industry by providing improved quality and consistency, increased safety, and reduced labor costs.