Automatic vertical glass transfer table
The glass straight line edger machine production line is consist of four glass straight line edger machines & 3 vertical transfer tables. You can choose the model of the edger machines which you need to combination one production line .At the end of the machine you can match with one vertical washing machine can directly washing the glass . This kind of production line can greatly improved all kind of bevel edger ,straight edge, round edger ,45 degree multi-beveling and etc that kind of glass processing . Not only efficiently , but also can save manpower & safety.
This kind of production line is initiated by ZhengYi, reflect the company adheres to "smart drive glass edge grinding efficiency," the innovation idea, break the market structure which is that only the glass double edger machine can make the production line. It is the best choice for single glass processing factory.
At present, we are research and development the glass transferring table, has reached the domestic leading level, and several main functions is in the leading of our industrial.
◆Transmission drive, loading arm is control by frequency motor;
◆Instead of the input and output guide of original machinery , save area and omitted the wastage of the original conveyor belt;
◆The input and output part of transferring table can be add the conveyor chain or synchronous belt to auxiliary conveying glass;
◆The output part lifting function can adjust the amount of grinding by a key
◆Transferring table is control by PLC;
◆The length of loading arm can be removable, easy to processing, without widening the spacing before and after when you process the small piece of glass;
◆Loading arm fell back quickly to connect the next pills;
◆The whole table is divided into two segments, after put down the glass under the rapidly progressive one, front and back glass piece does not need to keep distance.

Automatic vertical glass transfer table at workshop 1
Automatic vertical glass transfer table at workshop 2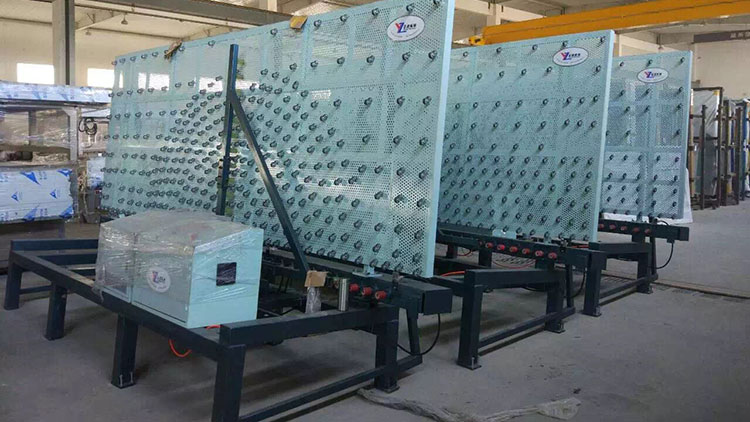 Automatic vertical glass transfer table at workshop 3