ZXM361SJ Glass straight line lifting beveling machine
View : 5531 | By Zhengyi
The beveling glass machine gives complete grinding that gives excellent mirror surface with absolute angels. Manufacturers are creating the machine with high-class materials to process works easily. And manufacture glass with perfect thickness, an angle of the hypotenuse, and width. They also consider some parameter to create glass with right size and shape. It is available at cheaper cost and machinery pattern in the domestic market. By using the machine attach decorative glasses on the property. The machine helps to cut glasses with various designs and shapes within few seconds. It is mostly used for manufacturing industry of glass.
This machine supplier has created the system with specific processing industries such as glass machinery, glass edging machine, and glass machine. Besides, you might found some reliable suppliers to buy the machine at the lower investment. It helps to create glass materials with current trends in the highly competitive industry. The suppliers are used comprehensive data to enhance the performance of souring on their manufacturing business.
You have to consider on body structure that helps to give better processing on production. It will be utilized with stainless steel water to give high performance on grinding areas.
PLC controls will be used to offer on the electrical parts to give long-lasting operation. All machines are constructed with gorgeous designs.
Check out the water tanks is equipped with best materials and verify suitable for all environments.
The machine is created by the high quality of strong, casting and stable material. It is used for a large range of manufacturing international brands with frequency adjustment and speed changer option. With the help of this machine, Production Company manufactures glass materials with high frequency. However, it is designed with particular designs that make to deliver glass product on the required time.

Characteristics:
This is 10 motors glass lifting beveling machine, the max bevel angle is 45°, it suitable for grinding the beveling and bottom, it also can complete rough grinding, fine grinding, polishing and bottom grinding in one time, the polished effect is similar to a mirror surface; It used full-electrical system to control; and also it uses directly type grinding motor, structure is compact, low noise; less failure; motor control is used twin-screw to pendulum angle; digital show the glass processing thickness, speed and angle; also have front beam lifting function; structure advanced, high accuracy, easy operation; big processing range and so on advantage; it is suitable for processing max bevel width, small piece glass bevel with,3-45°multilevel of special machines for a variety of functions, really achieve a variety of usage in one machine.
Advantage:
◆Base、Beam、Swing frame、upright all is used by high-quality castings, strong and stable body.
◆ABB international brands grinding motor, 2.2 KW wide range step-less speed changer,
frequency adjustment.
◆The front and rear delivery pad is used 40cr steel and 55-degree high-frequency hardening to its degree of hard wear.
◆Specially design for small briquette in front delivery pad, when you large quantities to process mosaic glass, even the delivery pad is wear, it don't need to change the whole delivery pad, only change the small briquette is ok; that you can save a lot of cost.
◆Aluminum scaffolding, timing belt transmission.
◆stainless steel water tank、there are two oil pump in both side to supply the lubrication for delivery pad pallet and so on activities parts.
◆Electrical appliances used the CHNT brand and so on high-quality product.
◆Rough grinding wheel, finish grinding wheel, polishing wheel: it all use China high-quality wheel and Italy wheel
◆This machine can accord customer requirement to design.

Glass straight line lifting beveling machine at exhibition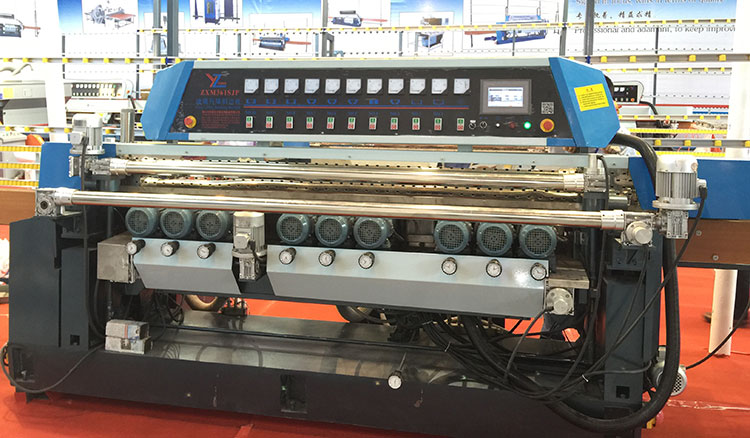 Glass beveling machine with the best international ABB motor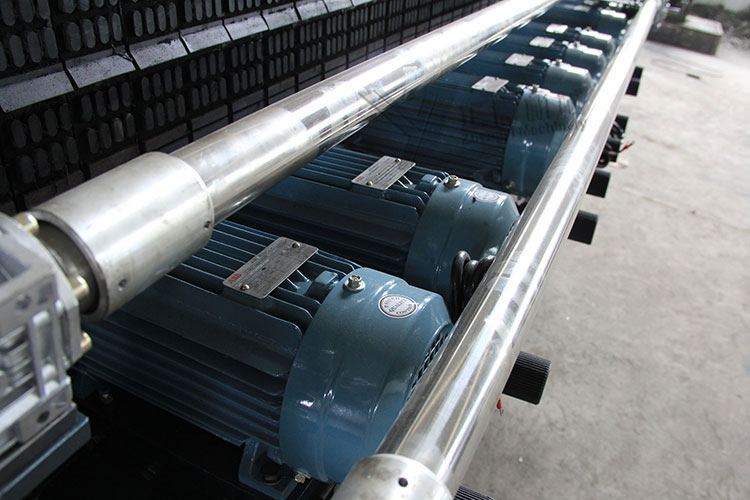 Installation of the glass lifting beveling machine