Characteristics:
ZYX series vertical glass washing machine is key equipment of manufacturer and processing insulating glass in architecture, building material and decoration industries. The machine can washing3-19mmthickness and max .width2500mmflat glass.
The machine mainly consists of washing section, drying section, drive system, machine frame, water tank, blower, electric control system and other parts. During the whole washing and drying process, the machine works automatically, and no need manual operation.
Advantage:
It adopts the world advanced Italy technology, details as following:
◆The cleaning part and contacted with water parts are stainless steel materials. Cleaning box adopts thick stainless steel, high strength and no deformation: the top is a8mmthickness stainless steel plate; the bottom is5mmthick stainless steel plate, side and the middle partition for2mmstainless steel plate;
◆The coated glass detection system uses the Japanese OMRON detector,positive and negative automatic recognition of coated glass, 2 hard brush can automatically give way, to avoid damage of coating.
◆(3 pairs brush configuration) 6pcs diameter180mmhigh temperature resistant wire brush + four spray, glass clean, fast speed (10-12m/min). The first brush configuration is with 2pcs hard brushes with cylinder lifting.
◆Cleaning tank and water contact parts、screw are made of stainless steel,copper, aluminum, waterproof nylon material, long-term use will not rust, easy to repair.
◆The gear transmission part adopts the key type connection; long-term use will not change (some manufacturers use screw fixation and low cost is very unstable).
◆Dry box(glass frames) are using stainless steel welding, it is used for a long time no rust, no two glass pollution.
◆Two pair of stainless steel air-knife, air drying effect is good, with heating system. Circulating air glass unique drying system energy-saving low noise (winter without heating air temperature up to 40 degrees).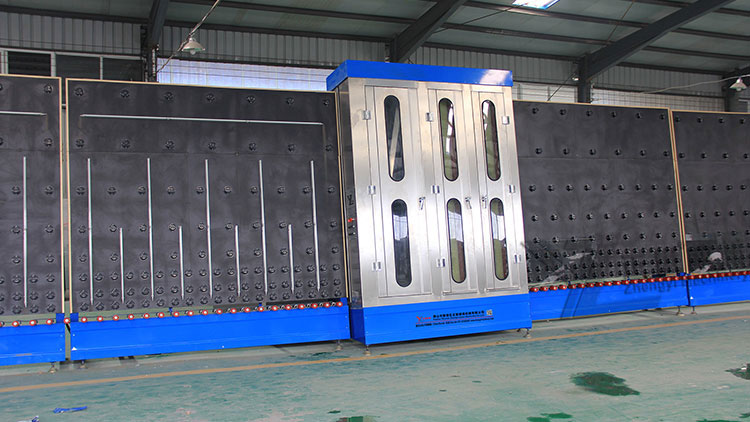 vertical glass washing machine