Glass Beveling Machine
View : 12242 | By Zhengyi
This glass beveling machine ZXM261P series for nine grinding head bevel machine, conventional models have three ZXM261P/ZXM261JP/ZXM261SP, the machine adopts PLC control system touch screen operation, bevel width one-key adjustment;

Characteristics of ZXM261P
Series
Glass Beveling Machine:
This glass beveling machine ZXM261P series for nine grinding head bevel machine, conventional models have three ZXM261P/ZXM261JP/ZXM261SP, the machine adopts PLC control system touch screen operation, bevel width one-key adjustment; The machine is suitable for grinding the straight beveled edge and bottom edge of flat glass, and the rough grinding, fine grinding, polishing and grinding of the bottom edge of the beveled edge are completed at one time, and the effect after polishing is consistent with the mirror surface. Direct grinding head motor, compact structure, low voice, few failures; The motor controls the overall swing angle of the twin screw, and has the function of integral advance and retreat of the grinding head swing frame; It has the advantages of advanced structure, high precision, convenient operation and strong stability, and is suitable for large-scale glass bevel edging processing.
Main Features:
◆INOVANCE PLC, INOVANCE inverter, MCGS touch screen operation, with independent intellectual property rights operation interface;
◆Mechanical, operating system with trinity function, touch screen input bevel width, mechanical automatic adjustment;
◆Base, girder, swing frame, column, grinding head are high density casting parts, strong and stable fuselage;
◆ABB international brand grinding head motor; 2.2KW variable frequency motor wide range governor, ZHUJIANG worm gear box;
◆High quality alloy steel inserts of 40cr steel, the front and back pads are hardened and wear-resistant by 55 degrees high frequency quenching;
◆Front pads is combined with small pads construction structure, batch processing Mosaic glass loss splint without replacing the whole plate, reduce the cost of use;
◆Stainless steel water tank, two oil pumps on both sides respectively supply pressure plate, drag plate, lifting structure and other moving parts of lubrication;
◆Aluminum alloy scaffolding row; Italian BARBIERI synchronous belt transmission; Delxi brand electric;
◆High quality paint shield; unique waterproof technology, girder bottom with water brush;
◆Coarse grinding wheel, fine grinding wheel, polishing wheel all use "XINGLI" brand, fine polishing wheel and felt wheel we use Italian wheels.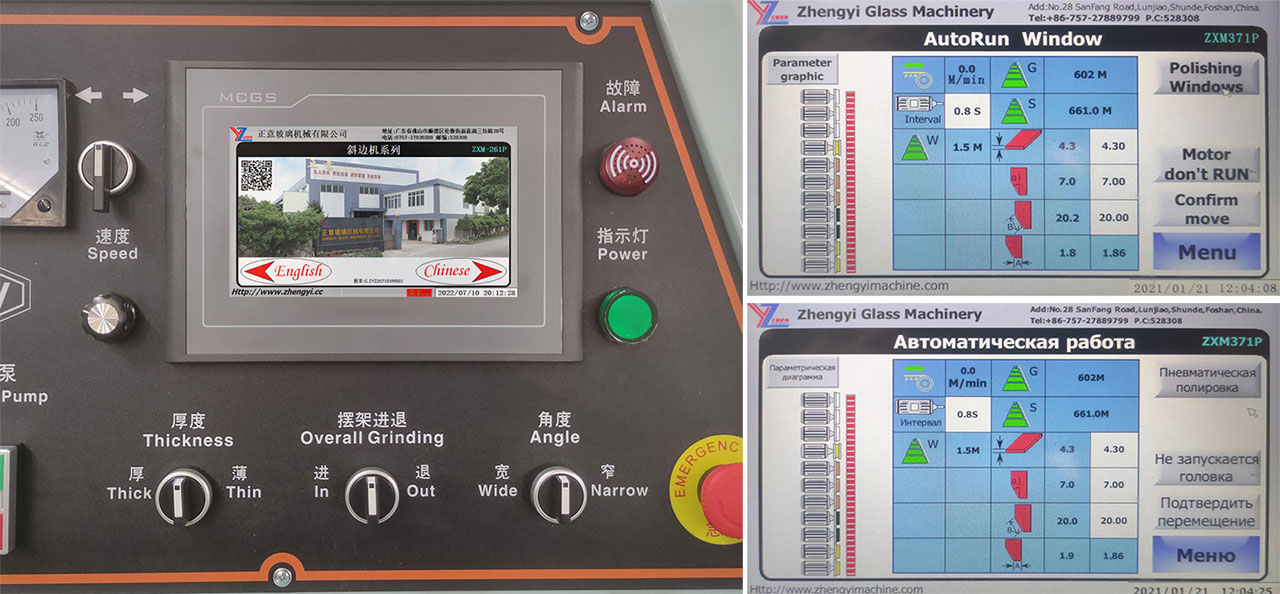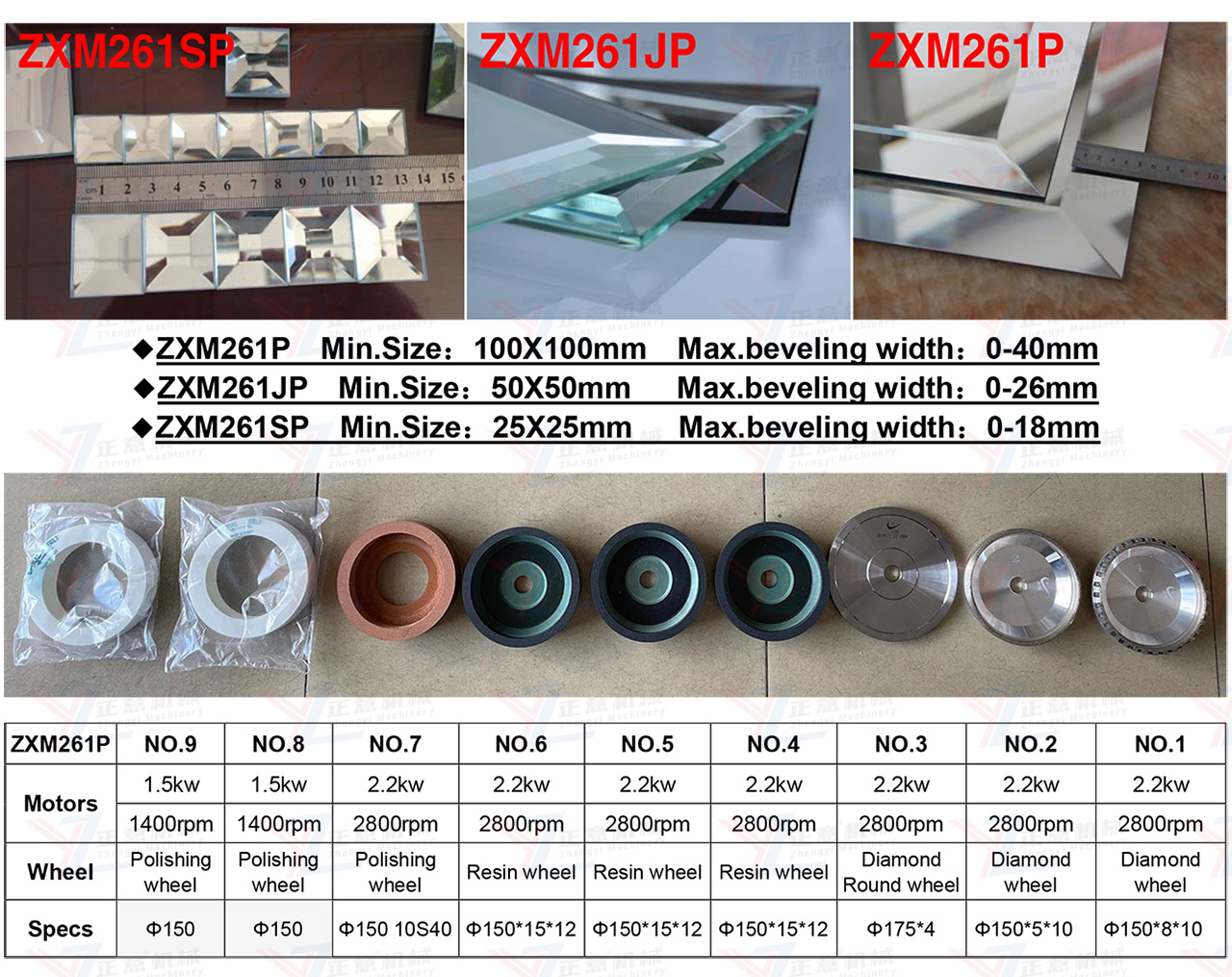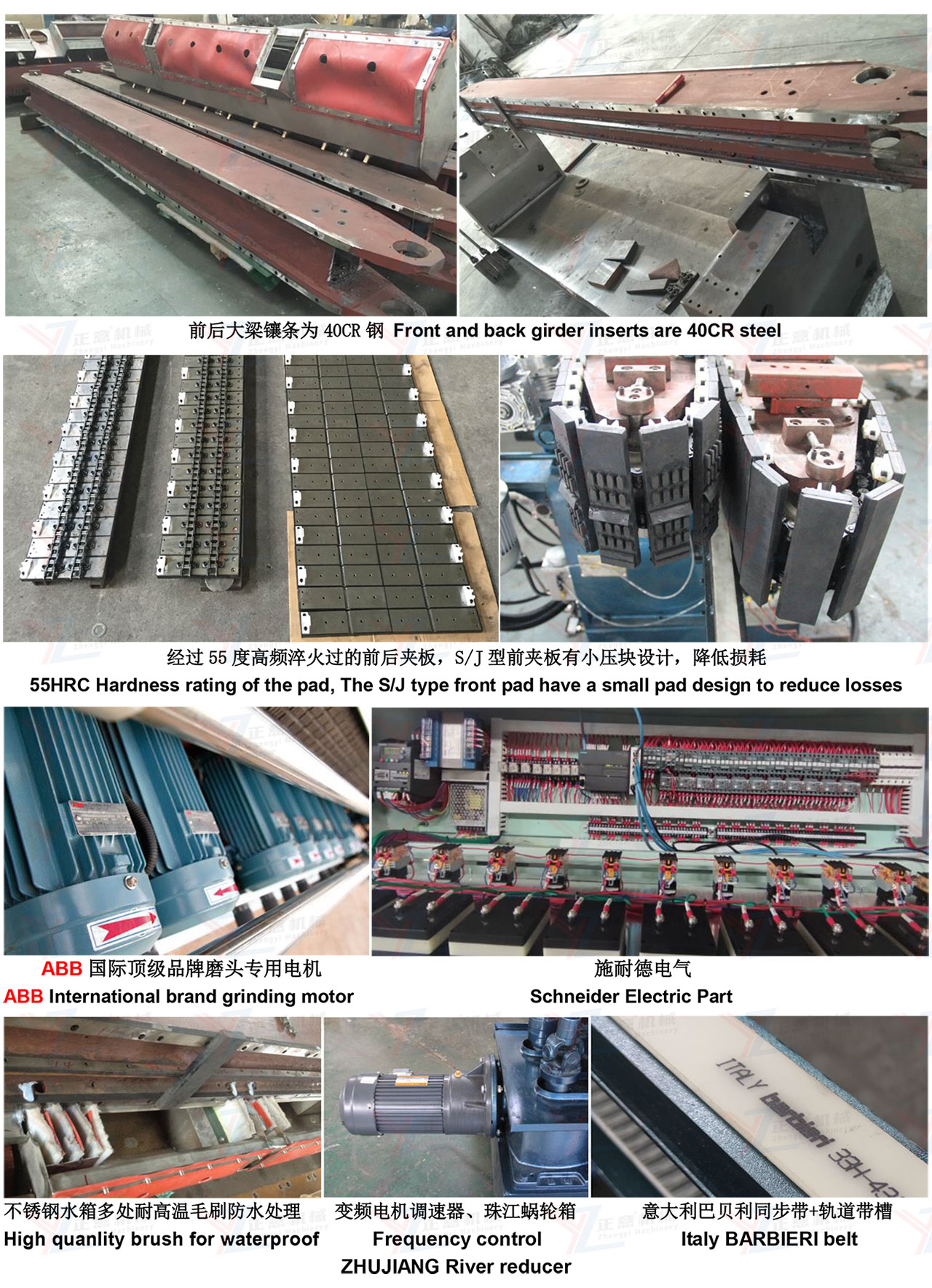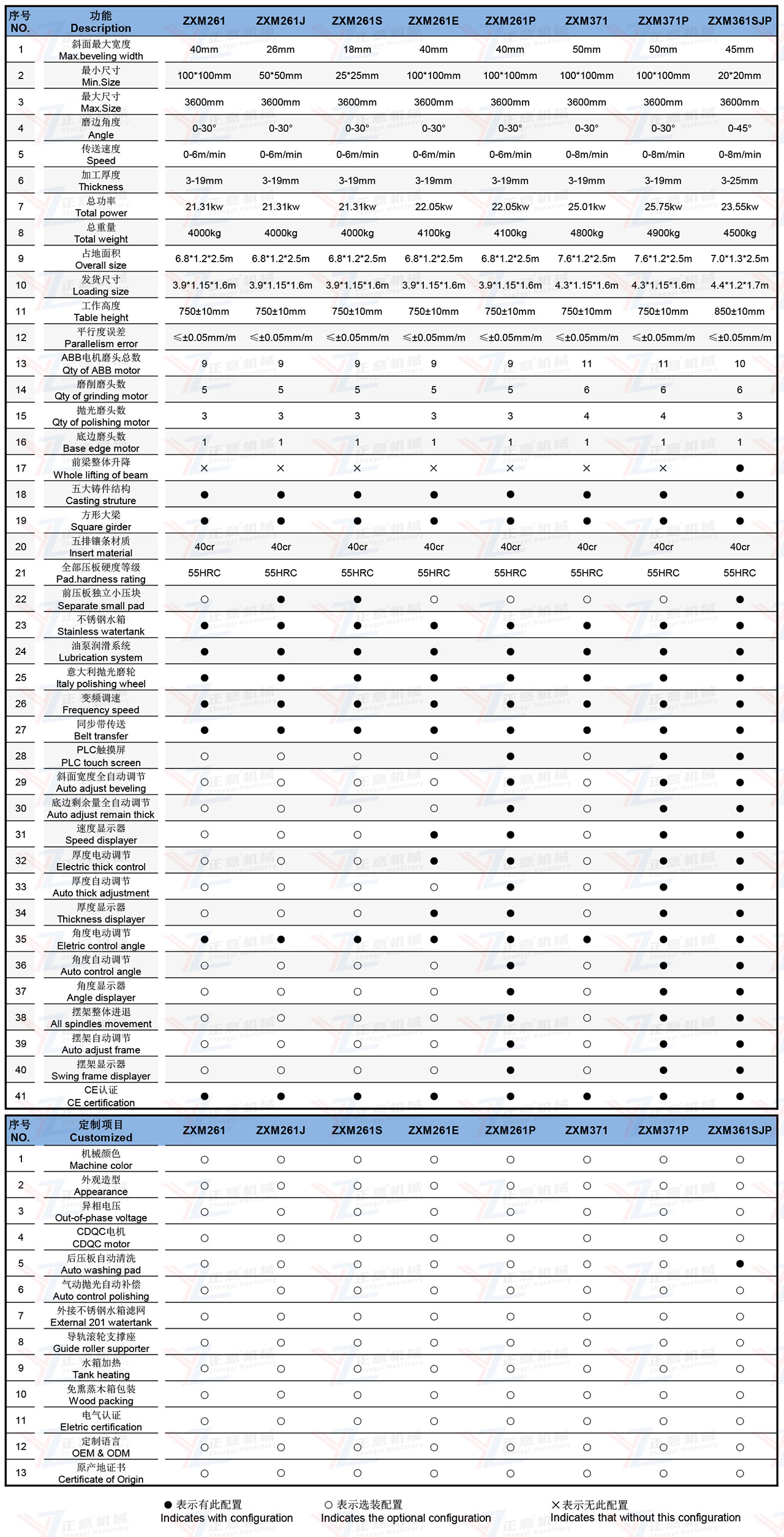 ZXM261 Installation of the straight line glass beveling machine at workshop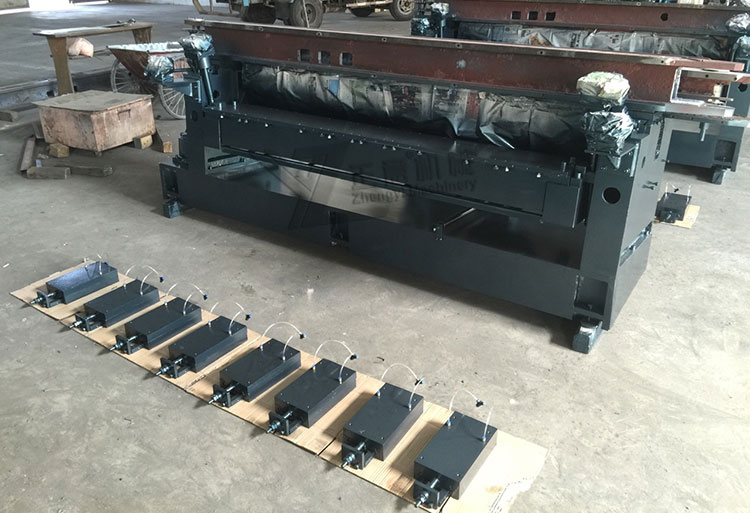 The best motor ABB brand install at the glass beveling machine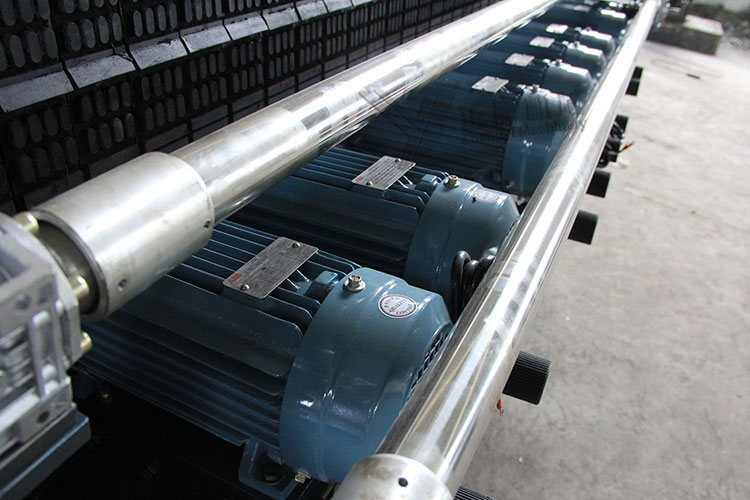 ZXM261 Straight Line Glass beveling machine is showed at exhibition.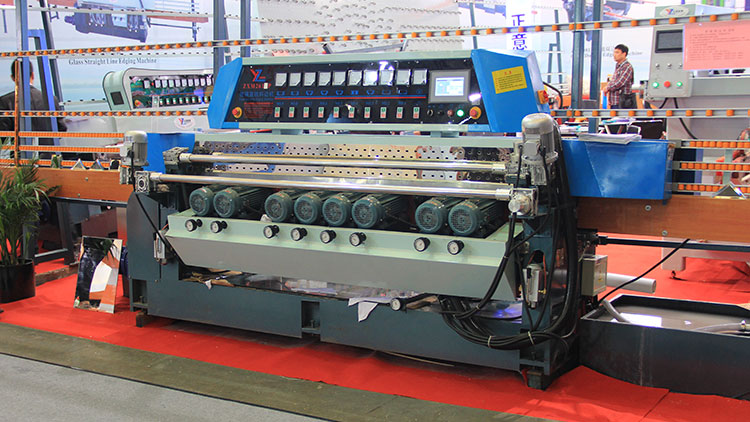 ZXM261 Straight Line glass beveling machine is working at customer's factory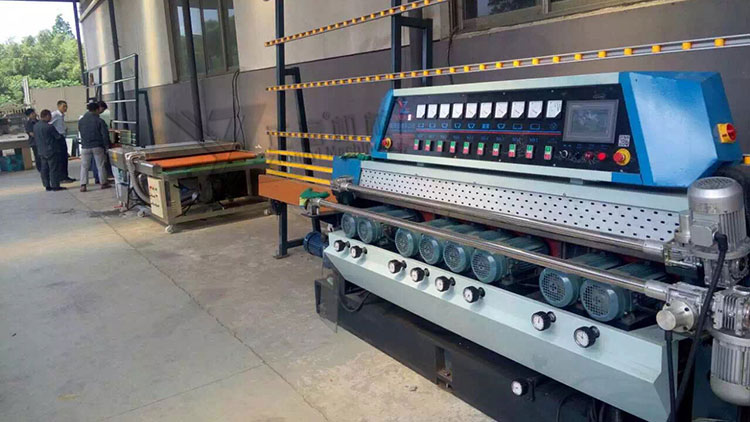 Our glass-beveling machine is energy-saving and easy to operate. Presented products are enormously appreciated by Zhengyi customers for characteristics such as glass beveling equipment and glass straight line beveling machine. Our machines feature high precision and low operating cost. Zhengyi -a famous brand of beveling machine is proudly designs and produces glass machine. English and Chinese instruction manual are available for our high quality glass machinery. Glass beveling machines is characterized by its glass straight line beveling machine. Being a glass beveling machine and supplier, Zhengyi glass machine has such properties as glass beveling machine & suppliers. The processing speed of our machines is adjustable.
Zhengyi is quality-oriented and has gained wide market in glass beveling device at present, Guangdong Zhengyi Machinery Co.,Ltd. has advanced production lines and various testing equipment for beveling machine. Over hundreds of skilled glass beveling machines technicians provide customers with the most sophisticated products. Zhengyi has been always stressing the importance of glass beveling machine. Ensuring a harmonious environment between employees can provide the best quality beveling machine.
Improve the productivity in your glass production and processing business with innovative and cutting-edge glass machine available at Zhengyi at irresistible offers. The boast of the latest inventions that redefine your glass processing, making it easy and timesaving. Manufactured using the utmost quality of materials and designs, these machine offer you a long lifespan and enhance your efficiency as they fit perfectly to your daily operations. The glass machine at Zhengyi come in a vast collection comprising numerous models and features that consider specifications and requirements for different users. Accordingly, you will find the best choice for your tasks. Loaded with powerful water jets, the machine maintain the optimal flow of water to produce the desired outcomes.
The high efficiency of these glass beveling machine makes them perform highly while reducing energy consumption so that you save on power bills. The machine are easy to maintain at their optimum performance levels. Due to the ease of cleaning, they are difficult to contaminate with particles, therefore, prevent unnecessary break-downs. Spares and repairs for these glass machine are readily available and accessible. Therefore, their pristine conditions are sustained throughout their lifespans. The glass beveling machine are loaded with impressive safety features to protect operators from unnecessary injury hazards. Enjoy the maximum returns on your investment from the top-notch performance you are about to witness. Explore Zhengyi today and discover alluring glass beveling machine that guarantee you the best value. The increase in productivity will make you realize that they are worth every penny you will spend on them.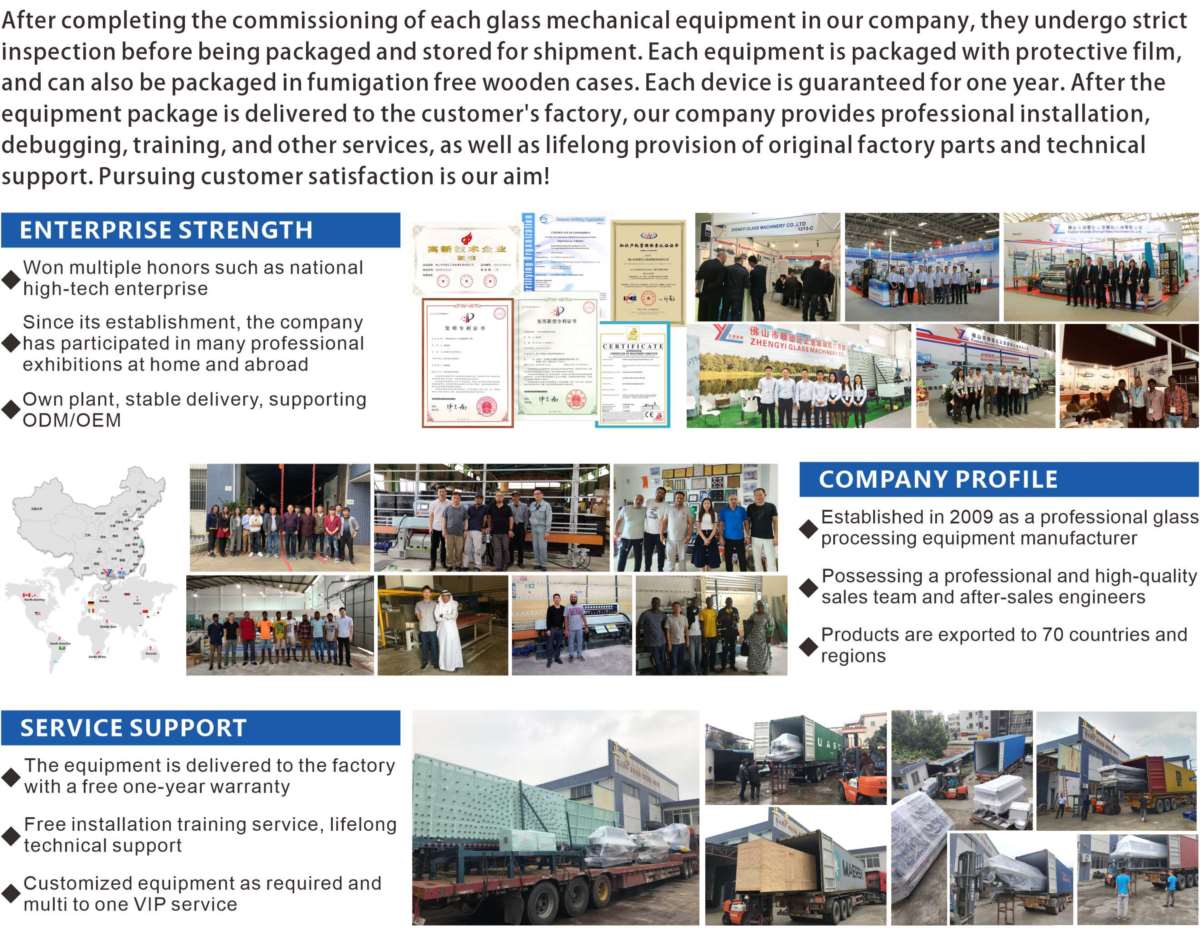 Send Inquiry
Can't find the specific information you're looking for? Have a question ? Contact Us